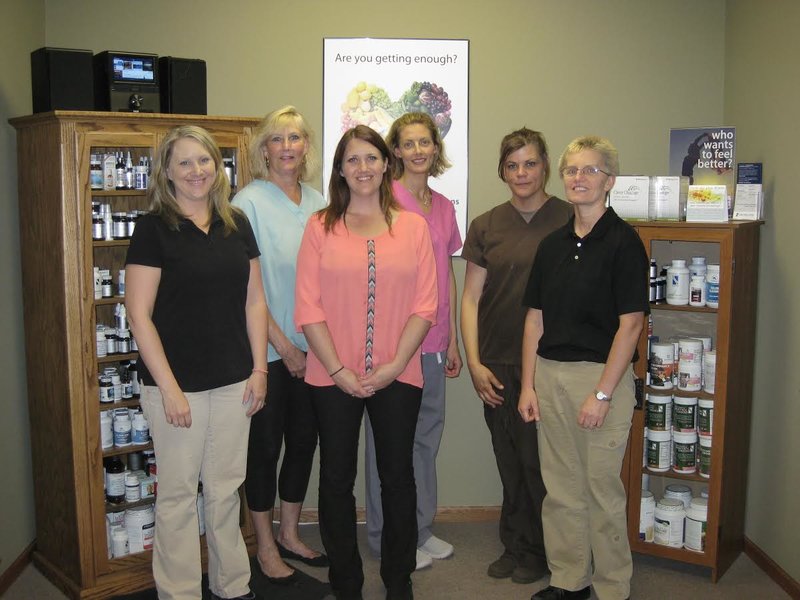 Business Hours: Location:
Monday: 9:30 AM to 5:00 PM 1804 Broadway St, Suite 125
Tuesday: 7:00 AM to 4:30PM Alexandria, MN 56308 (located in the Fantastic Sam's building on the south entrance)
Wednesday: massage only tel. 320-763-0313
Thursday: 9:00 AM to 7:00 PM fax. 320-763-4635
Friday: 9:00 AM to 12:00 PM & massage only after 12
Saturday: massage only 10:00 AM to 3:30 PM *massage may be available outside of the set hours*

Kaija M. Johnson, D.C.
Kaija grew up in Glyndon, MN, a small town outside of the Fargo-Moorhead area. She graduated from Dilworth-Glyndon-Felton and then attended Concordia College in Moorhead. She graduated Concordia College with a BA in Biology & History. After graduating college, she attended Northwestern Health Science University. She graduated from NWHSU in 2002 with a Doctorate of Chiropractic.
After graduation, she moved back to Moorhead to start up her clinic, Activecare Chiropractic. During the 3rd year of practice she added working part-time in Alexandria within the office of Dr. Wayne Knauf. After she got married in 2006, she moved her practice to Alexandria full time. In 2013, she moved her practice into a new office, which is where she is currently practicing.
During her years of practice, she has had many hours of continued training, including a 3-year Nutrition Diplomate program. She has completed the training and testing to be a Nationally Certified Medical Examiner to perform DOT examinations.
As a chiropractor, I understand that although patients may be diagnosed with the same condition, they respond very differently to treatments. For this reason, we tailor a specific plan of action to meet your needs, goals & unique medical and physical condition. We aim to educate our patients about Chiropractic and other natural solutions to common health problems in order to motivate you to take a more active and responsible role in restoring and maintaining your own health. We also offer a variety of services, including, nutrition, weight loss, massage, & DOT exams.
OFFICE STAFF:
Karen Wibstad, OFFICE MANAGER Tracy Seth, OFFICE ASSISTANT Tammy Gilbert, CMT & Office Support
MASSAGE THERAPISTS:
Tammy Gilbert, CMT Sara Chlian, CMT Terri Sovis, CMT Louisa Schlosser, CMT