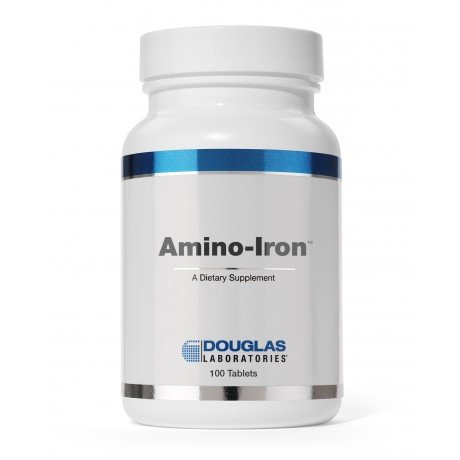 Amino-Iron
INDICATIONS
Amino-Iron may be a useful nutritional adjunct for individuals who wish to increase their intake of iron.
FORMULA (FEC)
Each tablet contains:
Iron (bis-glycinate)...................................................................................................18mg
SUGGESTED USE
One tablet daily as a dietary supplement, or as directed by physician. Take with food.Amino-Iron™
Highly bioavailable and exceptionally well tolerated
SIDE EFFECTS
No adverse side effects have been reported.
STORAGE
Store in a cool, dry place, away from direct light. Keep out of reach of children.
REFERENCES
Ashmead HD: Conversations on Chelation and Mineral Nutrition. Keats Publishing, Inc., New Canaan,
CT,1989.
Finch C, Cook JD: Iron Deficiency. Am J Clin Nutr 1982;39:471-477.
Guttridge JM, Rowley DA, Halliwell B: Superoxide-dependent formation of hydroxyl radicals and lipid
peroxidation in the presence of iron salts. Biochem J 1982;206:605-609.
Hallberg L: Bioavailability of dietary iron in man. Ann Rev Nutr 1981;1:123-147.
Hallberg L, Rossander-Hulten L: Iron requirements in menstruating women. Am J Clin Nutr 1991;54:1047-
1058.
Pineda O, Ashmead HD, Perez JM, Lemus CP: Effectiveness of iron amino acid chelate on the treatment of
iron deficiency anemia in adolescents. J Appl Nutr 1994;46:2-13.
Viteri F, Torun B: Anemia and physical work capacity. Clin Hematol 1974;3:609-612.
For more information on Amino-Iron™ visit douglaslabs.com
† These statements have not been evaluated by the Food and Drug Administration.
This product is not intended to diagnose, treat, cure, or prevent any disease.
Reviews