B-12 10,000 mcg Nutridose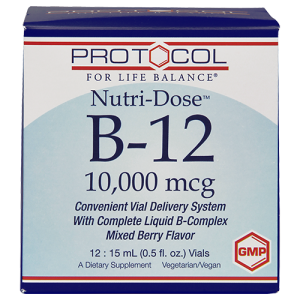 B-12 10,000 mcg Nutridose
-Full Spectrum of B Vitamins and Vitamin C
-Sugar Free
-Natural Berry Flavor Blend of Raspberry, Strawberry and Cherry
How it Works:
B Vitamins are essential components in most major metabolic reactions as they play an important role in energy production, including the metabolism of lipids, carbohydrates, and proteins. Vitamin B12 facilitates energy production and is required for nucleic acid (DNA) synthesis, methionine synthesis from cysteine, and normal myelin synthesis in the nervous system. Along with vitamin B6 and folic acid, adequate levels of vitamin B12 are required to maintain healthy plasma homocysteine levels.* The elderly and strict vegetarians are often at risk for Vitamin B12 deficiency, either due to low dietary intake or decreased absorption. B12 10,000 mcg Nutri-Dose™ is a convenient and palatable liquid formulation that is absorbed quickly by the body, delivering rapid, energizing nutrition.*
Suggested Usage:
Shake plastic vial before using. Snap top off of vial and squeeze liquid contents into mouth & swallow. Take 1 vial daily, preferably in the morning or as directed by your healthcare practitioner.
SUPPLEMENT FACTS
Serving Size: 1 Vial (15 mL) / Servings Per Container: 12
Amount Per Serving
%DV
Calories
30
Total Carbohydrate
8 g
3%*
Sugars
0 g
†
Thiamin (from Thiamin HCl) (Vitamin B-1)
3 mg
200%
Riboflavin (Vitamin B-2) (from Riboflavin-5-Phosphate Sodium)
3.4 mg
200%
Niacin (as Niacinamide) (Vitamin B-3)
50 mg
250%
Vitamin B-6 (from Pyridoxine HCl)
10 mg
500%
Folic Acid
400 mcg
100%
Vitamin B-12 (as Cyanocobalamin)
10 mg (10,000 mcg)
166,667%
Biotin
300 mcg
100%
Pantothenic Acid (from Calcium Pantothenate)
50 mg
500%
Choline (from Choline Bitartrate)
5 mg
†
Inositol
5 mg
†
* Percent Daily Values are based on 2,000 calorie diet.
† Daily Value not established.
Other Ingredients:
De-ionized Water, Vegetable Glycerine, Xylitol, Natural Berry and Cherry Flavors, Malic Acid, Potassium Sorbate (as preservative) and Natural French Vanilla Flavor.
Allergens:
Contains No: salt, yeast, wheat, gluten, soy, milk, egg, or shellfish.
Vegetarian / Vegan Product.

Reviews