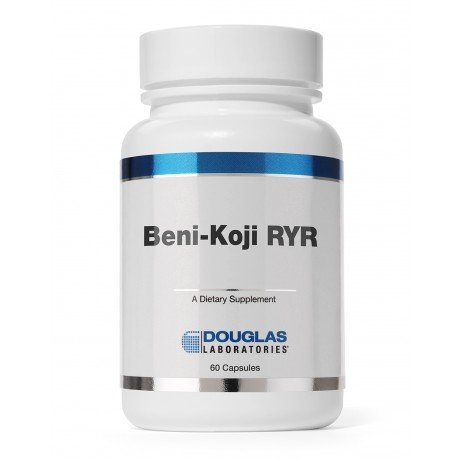 Beni-Koji Red Yeast Rice
INDICATIONS
Beni Koji Red Yeast Rice is a useful dietary supplement for those individuals wishing to maintain healthy
cholesterol metabolism.
FORMULA (#83339)
Two gelatin capsules provide:
Organic Red Rice Yeast....................................................................................1,000 mg
(Monascus purpureus)
This red yeast rice material is USDA certified organic, Kosher, and tested to ensure the citrinin, an unwanted
compound, is below 1 ppm.
This product contains NO gluten, soy protein, milk/dairy, corn, sodium, sugar, starch, artificial coloring,
preservatives or flavoring.
SUGGESTED USE
Adults take two capsules twice daily with food or as directed by your health care professional.
CAUTION
Pregnant and lactating woman should avoid this product. Do not take this product if you are allergic to yeast or
rice, are taking drugs that inhibit HMG-CoA reductase, or have liver disease or organ transplant.
SIDE EFFECTS
Since red yeast rice can contain monacolin constituents, red yeast has the potential to cause elevated liver
enzymes and myopathy.
POTENTIAL INTERACTIONS
Theoretically, red yeast might lower coenzyme Q-10 levels. It is suggested to take 50-100 mg of coenzyme Q-
10 with this product. Avoid consuming grapefruit products, as they might increase the serum levels of
monacolins in people who take red yeast. Taking red yeast with other hepatotoxic herbs and supplements
might increase the risk of liver damage.Beni Koji RYR
STORAGE
Store in a cool, dry place, away from direct light. Keep out of reach of children.
REFERENCES
Becker DJ, Gordon RY, Halbert SC, et al. Red yeast rice for dyslipidemia in statin-intolerant patients: A
randomized trial. Ann Intern Med 2009;150:830-9.
Halbert SC, French B, Gordon RY, et al. Tolerability of red yeast rice (2,400 mg twice daily) versus pravastatin
(20 mg twice daily) in patients with previous statin intolerance. Am J Cardiol 2010;105:198-204
Robbers JE, Tyler VE. Tyler's Herbs of Choice: The Therapeutic Use of Phytomedicinals. New York, NY: The
Haworth Herbal Press, 1999.
Monograph. Monascus purpureus (red yeast rice). Altern Med Rev. 2004 Jun;9(2):208-10
Vercelli L, et al. Chinese red rice depletes muscle coenzyme Q10 and maintains muscle damage after
discontinuation of statin treatment. J Am Geriatr Soc. 2006 Apr;54(4):718-20
Heber D, Yip I, Ashley JM, et al. Cholesterol-lowering effects of a proprietary Chinese red-yeast-rice dietary
supplement. Am J Clin Nutr 1999;69:231-6.
Wang J, Lu A, Chi J. Multicenter clinical trial of the serum lipid-lowering effects of a monascus purpureus (red
yeast) rice preparation from traditional Chinese medicine. Cur Ther Res 1997;58:964-78.
For more information on Beni Koji RYR visit douglaslabs.com
† These statements have not been evaluated by the Food and Drug Administration.
This product is not intended to diagnose, treat, cure, or prevent any disease.
Reviews