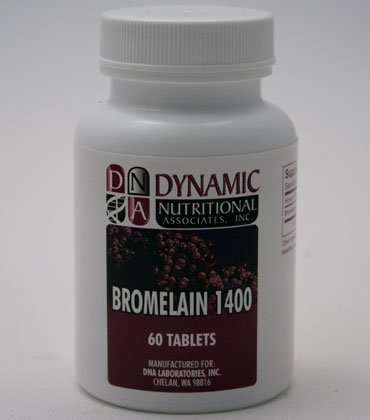 Bromelain 1400
Bromelain 1400
Anti-Inflammatory, Proteolytic Enzyme Formula
Orally, bromelain is used for acute postoperative and post-traumatic conditions of swelling, especially of the nasal and paranasal sinuses. It is also used orally for burn debridement, anti-inflammatory action, allergic rhinitis, prevention of epinephrine-induced pulmonary edema, smooth muscle relaxation, stimulation of muscle contractions, inhibition of blood platelet aggregation, enhanced antibiotic absorption, cancer prevention, shortening of labor, and enhanced excretion of fat. Bromelain is also used orally for mild ulcerative colitis.
One tablet supplies:
Bromelain (1,400 GDU)250 mg
Other Ingredients:
Calcium phosphate, plant cellulose, vegetable stearates, acacia and magnesium stearate.
Each tablet is pH sensitized to assure release in the intestinal tract.
* These statements have not been evaluated by the Food and Drug Administration. These products are not intended to diagnose, treat, cure, or prevent any disease.
Reviews