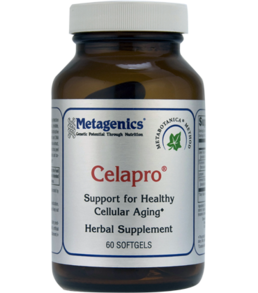 Celapro®
Celapro® contains phytonutrients that provide protection for the body's tissues including the breast, prostate , colon, and lung, where they may help combat destructive free radicals and support normal cell growth and DNA replication. By combining lycopene with green tea extract, curcumin from turmeric, and D-limonene from citrus peel oil, this formula provides a highly concentrated and targeted blend of tissue-protective phytonutrients.*
Helps promote the healthy function and aging of cells, to support the performance of organs and systems throughout life.*
Provides excellent support for hormone-sensitive tissues such as the breast,

prostate

, colon, and lung.*
Research suggests that green tea and curcumin may beneficially influence the body's

metabolism

of substances such as nitrosamines and estrogenic compounds.*
Provides generous levels of standardized green tea, as well as one of the market's highest concentrations of D-limonene.
Lycopene is delivered in an oil suspension, making it even more bioavailable than lycopene from raw tomatoes.*



Ingredients: D-Limonene, green tea extract, gelatin, sorbitol, lecithin (soy), glycerin, turmeric powder, lycopene, purified water, silica, annatto extract (color), riboflavin (color), and caramel (color). Contains: soy.

Directions: Take one softgel daily or as directed by your healthcare practitioner.

Caution: If pregnant or nursing, or taking medication, consult your healthcare practitioner before use. Keep out of the reach of children.

Formulated to Exclude: Wheat, gluten, dairy products, egg, nuts, tree nuts, fish, crustacean shellfish, artificial sweeteners, and preservatives. See Allergen Statement.


This product is produced in a facility that produces products containing soy, fish, and crustacean shellfish.
†Contains less than 30 mg of caffeine per serving.
Reviews