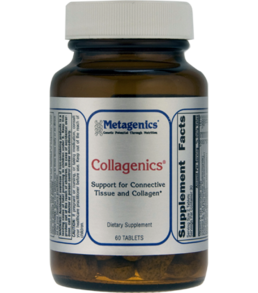 Collagenics
Nutritional Support for Connective Tissue
Collagenics is a comprehensive, proprietary blend of important vitamins, mineral amino acid chelates, free form amino acids, and other important nutrients that support connective tissue health.
• Provides targeted nutritional components known to be involved in the biochemical processes that support the growth and construction of connective tissue present in the skin, tendons, ligaments, cartilage, joints, and bones.
Two tablets supply:
Vitamin C (as ascorbic acid)100 mg
Vitamin B6 (as pyridoxine HCI)20 mg
Pantothenic Acid (as D-calcium pantothenate) 20 mg
Iron (as iron glycinate†)4 mg
Magnesium (as magnesium bis-glycinate†)50 mg
Zinc (as zinc glycinate†)10 mg
Copper (as copper citrate)2 mg
Manganese (as manganese sulfate) 3.3 mg
Horsetail 4-7:1 Aerial Parts (Equisetum arvense††)50 mgL-Proline100 mgL-Glycine400 mgL-Cystine100 mgL-Glutamine50 mgL-Taurine20 mg
MSM (methylsulfonyl methane)100 mg
L-Lysine (as L-lysine HCl)100 mg
D-Xylose50 mgAlpha-Ketoglutaric Acid 10 mg
Other Ingredients:
Cellulose, Microcrystalline cellulose, croscarmellose sodium, Stearic acid, silica, magnesium stearate, coating (deionized water, microcrystalline cellulose, and carrageenan).
Warnings:
Accidental overdose of iron-containing products is a leading cause of fatal poisoning in children under 6. Keep this product out of reach of children. In case of accidental overdose, call a doctor or poison control center immediately.
† U.S. Patent #5,516,925 Albion®.
†† Contains silica
* These statements have not been evaluated by the Food and Drug Administration. These products are not intended to diagnose, treat, cure, or prevent any disease.
Reviews