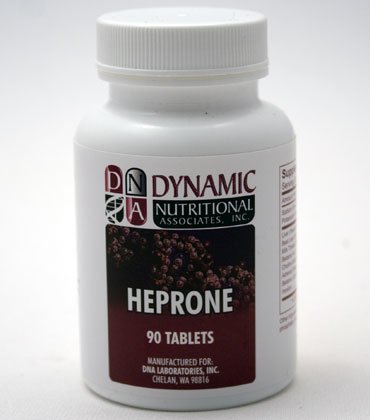 Heprone, DNA Labs
Heprone
Liver Support
Two tablets supply:
Sodium (from 5 mg Disodium Phosphate)1.6 mgPotassium (from 10 mg Potassium Bicarbonate)3.9 mgLiver (freeze dried)500 mgBeet Leaf (Beta vulgaris rubra)100 mgMilk Thistle (Silybum marianum)100 mgBetaine HCl10 mgCholine Bitartrate10 mgAdrenal (freeze dried)5 mgBetaine (Anhydrous)5 mgInositol5 mg
Other Ingredients:
Plant cellulose, vegetable stearates, calcium phosphate, magnesium stearate, and natural silica.
* These statements have not been evaluated by the Food and Drug Administration. These products are not intended to diagnose, treat, cure, or prevent any disease.
Reviews