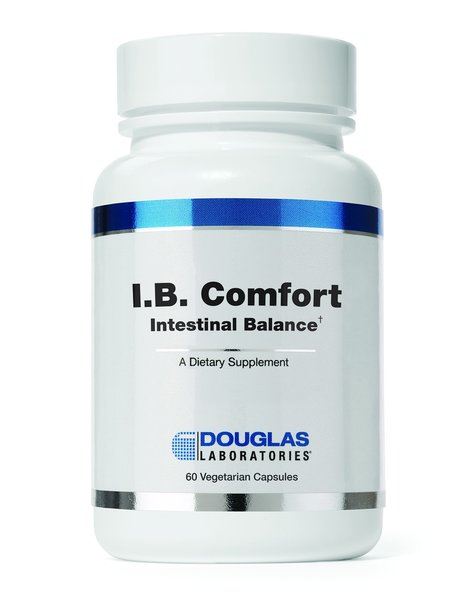 I.B. Comfort
I.B. Comfort
Intestinal Balance†
2 PRODUCT DATA DOUGLAS LABORATORIES® 01/2015
INDICATIONS
I.B. Comfort is indicated for individuals who desire intestinal balance and comfort.
FORMULA (#201822-60X)
Serving Size 2 Vegetarian Capsules
LYNSIDE® Pro GI+................................... 500 mg
(Saccharomyces cerevisiae CNCM I-3856)
(yielding 4 Billion C.F.U.)
Benegut™................................................. 300 mg
(Perilla frutescens)(leaf extract)
BiAloe® Organic Aloe Vera...................... 100 mg
(inner leaf) (minimum 15% Acemannan)
Other Ingredients: Hydroxypropyl methylcellulose (capsule), maltodextrin (from tapioca), cellulose, dicalcium phosphate, vegetable stearate, and silica.
SUGGESTED USE
Adults take 2 capsules daily, preferably 1 in the morning and 1 in the evening between meals, or as directed by your healthcare professional.
SIDE EFFECTS
No adverse effects have been reported.
STORAGE
Store in a cool, dry place, away from direct light. May be refrigerated after opening. Keep out of reach of children.
REFERENCES
Drossmann, Gastroenterology 130, 1377–1390 (2006).
H.C. Yu, K. Kosuna and M. Haga (Eds.), (Harwood Academic Publishers, Amsterdam, the Netherlands, 1997). [Perilla].
H. Oh, et al., Experimental Biology and Medicine 236(1), 99–106 (2011). [Perilla].
Zanello G, Berri M, Dupont J, Sizaret PY, D'Inca R, Salmon H, Meurens F. PLoS One. 2011 Apr 4;6(4). [Saccharomyces cerevisiae].
Saccharomyces cerevisiae in a Dynamic Gastrointestinal Model_ APPLIED AND ENVIRONMENTAL MICROBIOLOGY, Feb. 2011, p. 1127–1131.
P. Desreumaux, C. Neut, M. Cazaubiel, M. Pichelin, P. Justen, F. Pelerin. Submitted for Publication. [Saccharomyces cerevisiae].
Bland, J. Preventive Medicine, March/April 1985. [Aloe vera juice].
Robert A. Sinnott et.al. INT JRL OF PROBIOTICS AND PREBIOTICS, Volume 2, Number 2/3, pp. 97-104 (2007). [Aloe vera].
I.B. Comfort
Intestinal Balance†
3 PRODUCT DATA DOUGLAS LABORATORIES® 01/2015
H. Ueda, C. Yamazaki and M. Yamazako, Biological and Pharmaceutical Bulletin 25(9), 1197-1202 (2002). [Perilla].
For more information on I.B. Comfort, visit douglaslabs.com
† These statements have not been evaluated by the Food and Drug Administration.
This product is not intended to diagnose, treat, cure, or prevent any disease.
Reviews