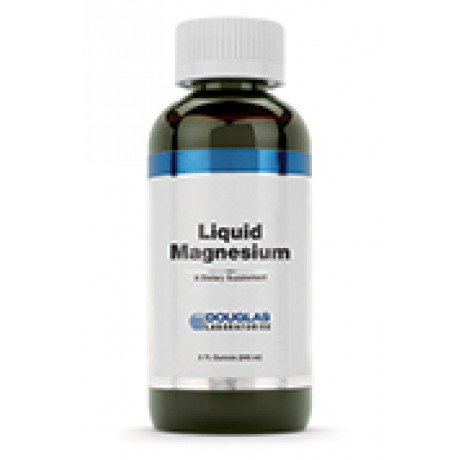 Liquid Magnesium
INDICATIONS
Liquid Magnesium is indicated for individuals that require magnesium supplementation and prefer liquid form.
FORMULA (#57622-8OZX)
Serving size 1 teaspoon (5 ml)
Magnesium (from magnesium citrate)……………225 mg
Other ingredients: Purified water, natural glycerin, natural pomegranate flavor, xanthan gum, citric acid,
potassium sorbate and purified stevia extract.
SUGGESTED USE
Adults take 1 teaspoon daily (5 ml) or as directed by a healthcare professional.
Children take only as directed by a healthcare professional.
WARNING: Individuals taking bisphosphonates and certain antibiotics should separate doses of magnesium
by at least 2 hours. Caution should be taken with concurrent use of potassium-sparing diuretics.
SIDE EFFECTS
Doses higher than 350 mg per day may cause loose stools or diarrhea.
STORAGE
Store in a cool, dry place, away from direct light. Keep out of reach of children.
REFERENCES
Kass L, Weekes J, Carpenter L. Effect of magnesium supplementation on blood pressure: a meta-analysis.
2012. Eur J Clin Nutr 2012;66:411-8.Liquid Magnesium
Larsson SC, Wolk A. Magnesium intake and risk of type-2 diabetes: a meta-analysis. J Intern Med
2007:262:208-14.
Creedon A, Flynn A, Cashman K. The effect of moderately and severely restricted dietary magnesium intakes
on bone composition and bone metabolism in the rat. Br J Nutr 1999;82:63-71.
Gyamlani G, Parikh C, Kulkarni AG. Benefits of magnesium in acute myocardial infarction: timing is crucial. Am
Heart J 2000;139:703.
Kawano Y, Matsuoka H, Takishita S, et al. Effects of magnesium supplementation in hypertensive patients:
assessment by office, home, and ambulatory blood pressures. Hypertension 1998;32:260-5.
Mizushima S, Cappuccio FP, Nichols R, et al. Dietary magnesium intake and blood pressure: a qualitative
overview of the observational studies. J Hum Hypertens 1998;12:447-53.
Moorkens G, Manuel y Keenoy B, Vertommen J, et al. Magnesium deficit in a sample of the Belgian population
presenting with chronic fatigue. Magnes Res 1997;10:329-37.
Ng SY. Hair calcium and magnesium levels in patients with fibromyalgia: a case center study. J Manipulative
Physiol Ther 1999;22:586-93.
Rubenowitz E, Axelsson G, Rylander R. Magnesium and calcium in drinking water and death from acute
myocardial infarction in women. Epidemiology 1999;10:31-6.
For more information on Liquid Magnesium, visit douglaslabs.com
† These statements have not been evaluated by the Food and Drug Administration.
This product is not intended to diagnose, treat, cure, or prevent any disease.
Reviews