Multigenics Intensive Care w/iron 180tabs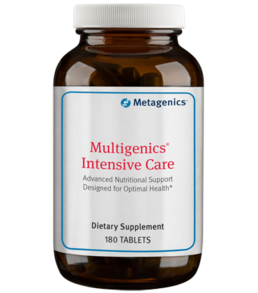 Multigenics Intensive Care w/iron 180tabs
Multigenics® Intensive Care is a potent yet gentle vitamin and mineral formula that features high quality ingredients designed for optimal absorption and bioavailability . Rapid tablet disintegration
allows quick release of the micronutrients. This comprehensive formula is suitable for adolescents, adults, and seniors, and features:*
Calcium L-5-methyltetrahydrofolte—a body-ready, nature-identical folate.
Alpha- and gamma-tocopherols in a one-to-one ratio.
Select nutrients to support healthy liver and adrenal function.
Caro-xan™, our proprietary blend of beta-carotene and Betatene® mixed carotenoids for balanced antioxidant protection.
Serving Size:


Other Ingredients: Microcrystalline cellulose, cellulose, stearic acid (vegetable), croscarmellose sodium, silica, and coating (hypromellose, medium chain triglycerides , hydroxypropylcellulose, and sodium copper chlorophyllin).

Direction: Take six tablets daily with meals or as directed by your healthcare practitioner.

This product is gluten free.

Warning: Excess vitamin A intake may be toxic and may increase the risk of birth defects. Pregnant women and women who may become pregnant should not exceed 10,000 IU of preformed vitamin A (retinyl acetate) per day. If pregnant or nursing, taking other nutritional supplements or medication, consult your healthcare practitioner before use.


Reviews