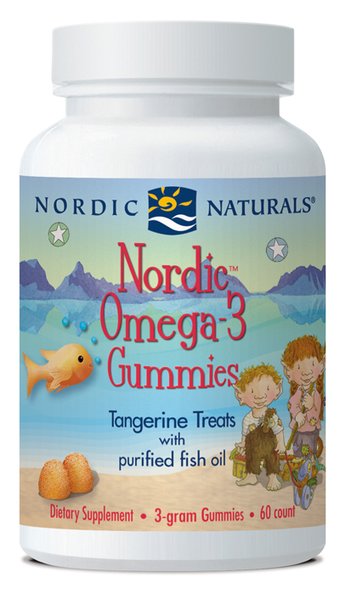 Nordic Omega-3 Gummies
Supports Development of the Brain, Eyes, and Nervous System and Immune Systems*
Before daybreak, Nordic sea trolls swim along the fjord bottoms gathering essential nutrients for making batches of Nordic Omega-3 Gummies.
Nordic Naturals introduces Nordic Omega-3 Gummies, a delicious tangerine fish oil treat for children. Rich in the omega-3 fatty acids, EPA and DHA.

Nordic Omega-3 Gummies:
*Support proper brain, eye, and nervous system development
*Enhance learning, memory, and focus
*Promote a healthy immune system

Nordic Omega-3 Gummies deliver the quality you have come to expect from Nordic Naturals, and make an ideal companion to our Nordic Berries multivitamins.
Other Ingredients: organic corn syrup, organic sugar,fish oil (from anchovies and sardines),gelatin, pectin, citric acid, fumaric acid, natural tangerine flavor, natural color (from annatto), sodium citrate.
Two Gummies Contain: EPA: 41mg, DHA: 27mg, Other Omega-3's: 14 mg
Reviews