OmegaGenics EPA-DHA 720 120softgels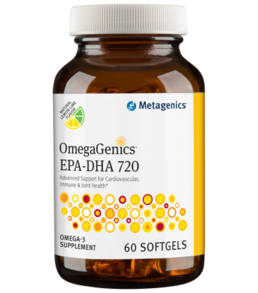 OmegaGenics EPA-DHA 720 120softgels
OmegaGenics® EPA - DHA 720 features a concentrated, purified source of pharmaceutical-grade omega-3 fatty acids from sustainably sourced, cold-water fish. Each softgel provides a total of 430 mg EPA and 290 mg DHA.
All OmegaGenics formulas are tested for purity and quality and stabilized with antioxidants to maintain freshness.
Serving Size:


Ingredients: Marine lipid concentrate [fish (sardine, anchovy, and mackerel) oil], softgel shell (gelatin, glycerin, water), natural lemon flavor, natural lime flavor, mixed tocopherols (antioxidant), rosemary extract, and ascorbyl palmitate (antioxidant). Contains: Fish (sardine, anchovy, and mackerel).

Directions: Take 2 softgels 1-2 times daily with food or as directed by your healthcare practitioner.

This product is gluten free.

Caution: Consult your healthcare practitioner if pregnant, nursing, or taking other nutritional supplements or medications. Keep out of the reach of children.

Storage: Keep tightly closed in a cool, dry place.

Reviews