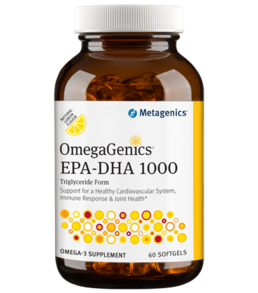 Omegagenics EPH-DHA 1000
OmegaGenics® EPA - DHA 1000 features a concentrated, purified source of pharmaceutical-grade omega-3 fatty acids from sustainably sourced, cold-water fish. Each softgel provides a total of 710 mg EPA and 290 mg DHA in triglyceride form for easy absorption.
All OmegaGenics formulas are tested for purity and quality and stabilized with antioxidants to maintain freshness. Learn more about TruQuality™ at www.WhyOmegaGenics.com.
Serving Size:
Reviews