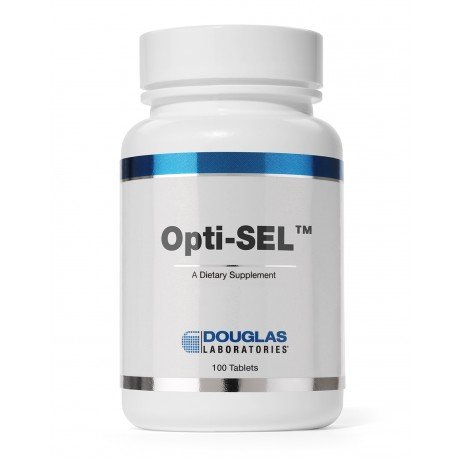 Opti-Sel
INDICATIONS
Opti-Sel may be a useful nutritional adjunct for individuals who wish to increase their intake of selenium from
both organic and inorganic sources.
FORMULA (SEL)
Each tablet contains:
Selenium (selenomethionine).........................................………………………..50mcg
Selenium (sodium selenate)...........................................………………….......150mcg
SUGGESTED USE
One tablet daily as a dietary supplement, or as directed by a physician. Take with food.Opti-SEL™
Dual-Source Selenium Supplement
SIDE EFFECTS
No adverse side effects have been reported.
STORAGE
Store in a cool, dry place, away from direct light. Keep out of reach of children.
REFERENCES
Andersen O, Nielsen JB. Effects of simultaneous low-level dietary supplementation with inorganic and organic
selenium on whole-body, blood, and organ levels of toxic metals in mice. Environ Health Perspect 1994;102
Suppl. 3:321-324.
Cirelli A, Ciardi M, De Simone C, et al. Serum selenium concentration and disease progress in patients with
HIV infection. Clin Biochem 1991;24:211-214.
Dworkin BM. Selenium deficiency in HIV infection and the acquired immunodeficiency syndrome (AIDS). Chem
Biol Interact 1994;91:181-186.
Dworkin BM, Antonecchia PP, Smith F, et al. Reduced cardiac selenium content in the acquired
immunodeficiency syndrome [see comments]. JPEN J Parenter Enteral Nutr 1989;13:644-647.
Dworkin BM, Rosenthal WS, Wormser GP, et al. Abnormalities of blood selenium and glutathione peroxidase
activity in patients with acquired immunodeficiency syndrome and aids-related complex. Biol Trace Elem Res
1988;15:167-177.
Dworkin BM, Rosenthal WS, Wormser GP, Weiss L. Selenium deficiency in the acquired immunodeficiency
syndrome. JPEN J Parenter Enteral Nutr 1986;10:405-407.
Kadrabová J, Madaric A, Kováciková Z, Ginter E. Selenium status, plasma zinc, copper, and magnesium in
vegetarians. Biol Trace Elem Res 1995;50:13-24.
Larsen PR, Berry MJ. Nutritional and hormonal regulation of thyroid hormone deiodinases. Annu Rev Nutr
1995;15:323-352.
Lehr D. A possible beneficial effect of selenium administration in antiarrhythmic therapy. J Am Coll Nutr
1994;13:496-498.
Olmsted L, Schrauzer GN, Flores-Arce M, Dowd J. Selenium supplementation of symptomatic human
immunodeficiency virus infected patients. Biol Trace Elem Res 1989;20:59-65.
Roy M, Kiremidjian-Schumacher L, Wishe HI, Cohen MW, Stotzky G. Supplementation with selenium restores
age-related decline in immune cell function. Proc Soc Exp Biol Med 1995;209:369-375.
Schrauzer GN, Sacher J. Selenium in the maintenance and therapy of HIV-infected patients. Chem Biol
Interact 1994;91:199-205.
Sun E, Xu H, Liu Q, Zhou J, Zuo P, Wang J. The mechanism for the effect of selenium supplementation on
immunity. Biol Trace Elem Res 1995;48:231-238.
Tarp U. Selenium and the selenium-dependent glutathione peroxidase in rheumatoid arthritis. Dan Med Bull
1994;41:264-274.
Thompson KM, Haibach H, Sunde RA. Growth and plasma triiodothyronine concentrations are modified by
selenium deficiency and repletion in second-generation selenium-deficient rats. J Nutr 1995;125:864-873.
For more information on Opti-SEL visit douglaslabs.com
† These statements have not been evaluated by the Food and Drug Administration.
This product is not intended to diagnose, treat, cure, or prevent any disease.
Reviews