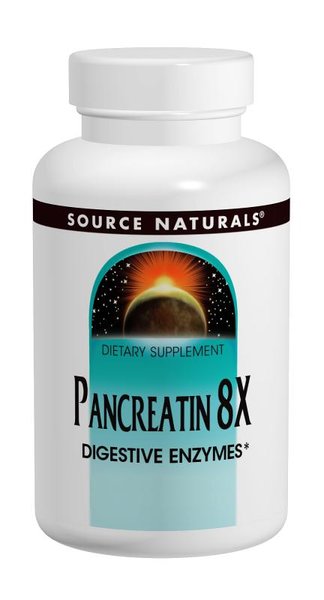 Pancreatin 8X 500mg 100C
Digestive Enzymes
Pancreatin is a mixture of pancreatic enzymes that support digestion. Porcine pancreatin, which is similar to human, consists of proteases (to break down protein), amylases (to break down carbohydrates) and lipases (to break down fats). Together they aid the body's natural digestion process and may improve nutrient absorption. When taken between meals they act as systemic enzymes
Supplement Facts for Capsule
Serving Size: 2 Capsules
| | | |
| --- | --- | --- |
| | Amount | %DV |
| Sodium | 10 mg | <1% |
| Pancreatin 8X | 1 g | |
| To Break Down Protein: | | |
| Protease | 200,000 USP | |
| To Break Down Fats: | | |
| Lipase | 16,000 USP | |
| To Break Down Carbohydrates: | | |
| Amylase | 200,000 USP | |
Suggested Use:
For Digestive Aid: 1 to 2 capsules immediately before a meal. For Systemic Aid: 1 to 2 capsules an hour before or after a meal.
Other Ingredients:
gelatin (capsule), microcrystalline cellulose, magnesium stearate, and silica.
Warning:
Do not take if you are pregnant, may become pregnant, breastfeeding, or if you suffer from any gastrointestinal disorders such as ulcers. Consult your health care professional before taking this product if you are taking any drug that affects blood coagulation such as prescription vitamin K, heparin, warfarin (Coumadin(R)), or aspirin.
Allergies:
Contains no yeast, dairy, egg, gluten, soy or wheat. Contains no sugar, starch, preservatives, or artificial color, flavor or fragrance. providing soothing comfort to the body. Pancreatin 8X contains eight times the enzyme activity as pancreatin USP.
*
Reviews