ProgesterAll *REPLACEMENT FOR UBER BALANCE*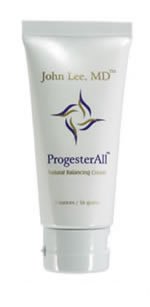 ProgesterAll *REPLACEMENT FOR UBER BALANCE*
ProgesterAll™ contains the exact amounts of the ingredients that Dr. Lee recommended for women in his groundbreaking books, including:
What Your Doctor May Not Tell You About Menopause
What Your Doctor May Not Tell You About Premenopause
What Your Doctor May Not Tell You About Breast Cancer
ProgesterAll™ is the only natural balancing cream that has the Lee family's permission to have Dr. Lee's name on it. Indeed, the Lee family is the majority owner of the company that produces ProgesterAll™. This ensures that the product will always adhere to the strict guidelines that Dr. Lee laid down for natural balancing creams.
One of the unique qualities of ProgesterAll™ that sets it apart from similar products is its liposome-mediated delivery system. Many customers tell us that unlike other creams, ProgesterAll™ melts instantly into their skin with no greasy residue.
ProgesterAll™ Ingredients
Deionized Water, Capryllic/Capric Triglyceride, Sepigel, Progesterone, Lecithin, Alcohol, Glycerin, Simugel (a plant-based thickener), Grapefruit Seed Extract, Sodium Hydroxymethylglycinate, Citric Acid, Potassium Sorbate, Tocopheryl Acetate.

Reviews