somnolin®: support for restful sleep and relaxation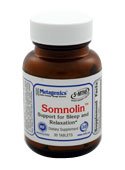 somnolin®: support for restful sleep and relaxation
somnolin® support for restful sleep and relaxation
recommendations: two tablets daily or as directed by your healthcare practitioner. may be taken during the day and/or before bedtime.
form: 30 tablet bottle; 60 tablet bottle
product description:
somnolin features a complementary blend of nutrients, including 5-htp, theanine, and targeted b vitamins, to promote a restful, relaxed state and relieve occasional sleeplessness.
supports balanced levels of the neurotransmitters gaba, serotonin, and dopamine with clinically beneficial levels of 5-htp and theanine.
theanine may influence the generation of alpha brain waves associated with a deep state of relaxation.
supports healthy neurological function with targeted b vitamins—including an exclusive source of biologically active folate (l-5-mthf) and methylcobalamin. research suggests that l-5-mthf may cross the blood-brain barrier.
provides an all-natural source of 5-htp from the herb griffonia simplicifolia.
supplies a highly concentrated dose in one tablet.
two tablets supply:
vitamin b6 (as pyridoxine hcl)
40 mg
folate (as l-5-methyl tetrahydrofolate†)
400 mcg
vitamin b12 (as methylcobalamin)
500 mcg
l-5-hydroxytryptophan (l-5-htp from griffonia simplicifolia)
200 mg
l-theanine
200 mg
other ingredients: microcrystalline cellulose, cellulose, stearic acid, croscarmellose sodium, and silica.
† as metafolin® u.s. patent nos. 5,997,915; 6,254,904.
these statements have not been evaluated by the food and drug administration. these products are not intended to diagnose, treat cure, or prevent any diseases.
Reviews