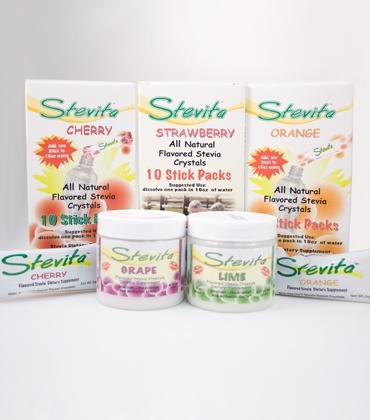 Stevita
Stevita Fruit Flavored Stevia


We use only natural flavors and natural colors to be added to our at least 95% pure Stevita extract . Available in boxes with 15 individual stick packets ( on-the-go packets) pre-measured for a 16 oz. glass or bottle of water. Also available in 2.8 oz jars. They come in Lime, Cherry, Grape, Orange and Strawberry flavors. With no calories, no carbs and zero glycemic, they are delicious healthy alternatives . JUST ADD TO WATER, OR ANY OTHER PRODUCT AND ENJOY!!!!

1 tsp supplies:
Calories0Total Carbohydrates0 gSugars0 gDietary Fiber0 gVitamin C100 mgStevia Rebaudiana Bertoni extract (leaves)480 mg
Other Ingredients:

erythritol, citric acid, fumaric acid, tartaric acid, natural flavors and natural colors.


* These statements have not been evaluated by the Food and Drug Administration. These products are not intended to diagnose, treat, cure, or prevent any disease.
Reviews