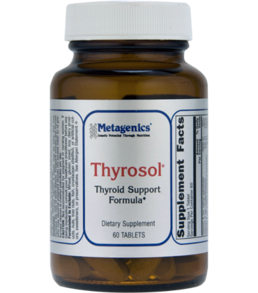 Thyrosol®
Thyrosol® supports healthy thyroid function by providing targeted nutrients that support healthy thyroid hormone synthesis and promote the conversion of thyroxine (T4) to the more bioactive triiodothyronine (T3).*
Supports the healthy synthesis of thyroid hormones.*
Supports the steps in hormone metabolism negatively affected by stress.*
Supports the conversion of thyroxine (T4) to the more bioactive triiodothyronine (T3).*
May enhance the binding of T3 receptors to DNA, thereby supporting the expression of thyroid hormone-responsive genes.*


Other Ingredients: Microcrystalline cellulose, cros carmellose sodium, silica, stearic acid (vegetable), and coating (water, hypromellose, medium chain triglycerides , and hydroxypropylcellulose).

Directions: Take one tablet twice daily with food or as directed by your healthcare practitioner.

Warning: Excess vitamin A intake may be toxic and may increase the risk of birth defects. Pregnant women and women who may become pregnant should not exceed 10,000 IU of preformed vitamin A (retinyl palmitate) per day.

Caution: Not recommended for pregnant or nursing women. If taking medication, consult your healthcare practitioner before use.

This product is Gluten Free.

Formulated to Exclude: Wheat, gluten, soy, dairy products, egg, nuts, tree nuts, fish, crustacean shellfish, colors, artificial sweeteners, and preservatives.
Reviews