Ultra Glucose Control Starter Kit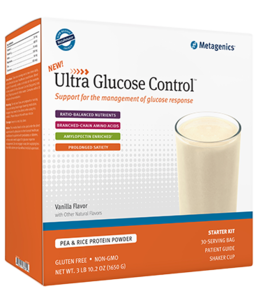 Ultra Glucose Control Starter Kit
Ultra Glucose Control™ is formulated for the nutritional management of glucose response. It is designed for individuals who may need additional support in controlling their blood sugar levels. Ultra Glucose Control delivers a ratio-balanced combination of carbohydrates, protein, and fat (40-30-30) to manage glucose response, consistent with recommendations from clinical centers.1,2 Formulated with MetaRelease™—a proprietary blend of slow-release, complex carbohydrates (UCAN SuperStarch™) and fiber—and high-quality proteins and branched-chain amino acids, Ultra Glucose Control supports a balanced glucose response and sustained energy release. UCAN SuperStarch™ contains more than 95% heat-moisture treated amylopectin, which is designed to digest slowly, leading to a sustained glucose and insulin response and prolonged satiety.

Ultra Glucose Control:
Supports a healthy insulin response, helping to manage glucose levels.3
Provides satiation (feeling of fullness) and supports muscle-building capacity.
Is intended for use with the support of your healthcare practitioner and in concert with healthy lifestyle choices, including a healthy eating plan and regular exercise.

Each serving contains:

15 grams of a pea/rice protein blend enhanced with branched-chain amino acids (leucine, isoleucine, valine).
1 gram of L-arginine to support carbohydrate metabolism.
22 essential vitamins and minerals—including vitamin D3, chromium, biotin, and magnesium—to support overall health.
Monounsaturated fats to support healthy blood lipid levels.
Serving Size:
2 Scoops (55g)
Ingredients:
Heat-moisture treated amylopectin†, pea protein isolate, sunflower oil, natural flavors, rice protein concentrate, erythritol, isomalto-oligosaccharide, magnesium glycinate, organic cane sugar, silica, L-leucine, Chinese cinnamon bark powder, guar gum, L-isoleucine, L-valine, xanthan gum, zinc gluconate, rebaudioside A (from
Stevia rebaudiana
leaf extract), ascorbic acid, manganese gluconate, d-alpha tocopheryl acetate, copper gluconate, D-biotin, retinyl palmitate, niacinamide, cholecalciferol, d-calcium pantothenate, chromium picolinate, pyridoxine HCl, riboflavin, potassium iodide, thiamin HCl, calcium L-5-methyltetrahydrofolate, selenomethionine, and methylcobalamin.
Reviews