Ultra Prevenitive Kids Multivitamin Orange 60 chewable tablets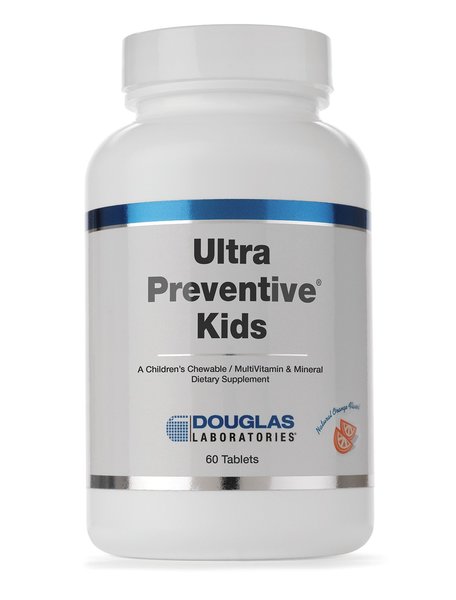 Ultra Prevenitive Kids Multivitamin Orange 60 chewable tablets
Ultra Preventive Kids provided by Douglas Laboratories® is a great tasting, chewable multiple vitamin-mineral-trace element supplement designed for children ages four and up. The unique teddy bear shaped chewable tablets provide 28 vitamins, minerals and trace elements in bioavailable forms and nutritionally meaningful amounts.
Ultra Preventive Kid is more than just another children's multivitamin-mineral supplement. Research shows that going beyond RDA amounts of many vitamins may have significant positive effects on the structure and function of growing bodies. Ultra Preventive Kids provide important antioxidant vitamins C and E, a complete vitamin B complex, easily absorbable calcium and magnesium, as well as a full spectrum of bioavailable trace elements. In fact, Ultra Preventive Kids is one of the most complete children's chewable multivitamin/mineral formulas on the market. This new improved formulation now features a natural orange or grape flavor, naturally sweetened with purified stevia and xylitol, and higher amounts of vitamin D and added choline, as research indicates both of these nutrients are important for children's overall health and wellbeing.
Ultra Preventive Kids uses only the purest, most hypoallergenic ingredients and contains no artificial colors, flavors or preservatives.
Reviews