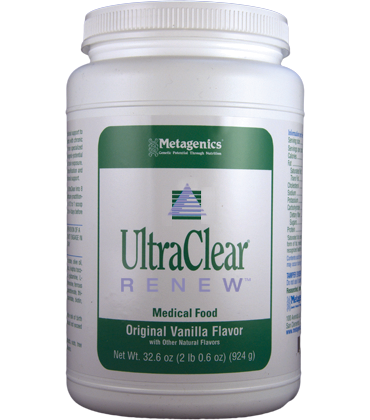 Ultraclear Renew
UltraClear RENEW™
Clinically tested, for the management of pain and stiffness associated with fibromyalgia.
The UltraClear RENEW ProgramThe only medical food program for fibromyalgia patients formulated to address altered pain signaling and neuromuscular function with additional support for heavy metal metabolism. This program consists of the UltraClear RENEW medical food and a modified elimination diet.Preliminary laboratory studies conducted at MetaProteomics®—the proteomics research arm of Metagenics, Inc.—suggest that key botanicals in UltraClear RENEW may modify upstream signaling pathways. Individual ingredients have been shown in vitro to positively modify Phase II enzymes (GST, NQO-1) and activators (Nrf-2, HO-1) associated with the antioxidant response element (ARE) and metal response element (MRE)—transcriptional elements that induce toxic element metabolism and hepatic detoxification.The ability to remove toxins may theoretically play a role in the etiology or exacerbation of a range of chronic diseases and conditions, including fibromyalgia.
Serving Size: 2 scoops (40 g) Servings Per Container: 21 One serving supplies:
Calories150 Total Fat3 gSaturated Fat†1 gTrans fat0 gCholesterol0 mgSodium220 mgPotassium520 mgCarbohydrate20 gDietary Fiber3 gSugars9 gProtein12 gVitamin A (as beta-carotene)4000 IUVitamin A (as retinyl palmitate)1000 IUVitamin C300 mgCalcium150 mgIron1 mgVitamin D35 IUVitamin E42 IUThiamin2 mgRiboflavin2 mgNiacin7 mgVitamin B63.4 mgFolic Acid80 mcgVitamin B123.6 mcgBiotin135 mcgPantothenic Acid36 mgPhosphorus230 mgIodine53 mcgMagnesium160 mgZinc10 mgCopper1 mgManganese1 mgChromium50 mcgChloride460 mgProprietary Spent Hops (Humulus lupulus) Powder1000 mgL-Glycine800 mgPrune (Prunus domestica) Skin Extract125 mgL-Glutamine100 mgWatercress (Nasturtium officinale) Whole Plant Extract67 mgEllagic Acid [from pomegranate (Punica granatum) Whole Fruit Extract]50 mgDL-Methionine50 mgL-Threonine35 mgL-Lysine35 mgSulfate (magnsium sulfate)20 mgL-Cysteine15 mgCatechins (from decaffeinated green tea extract)15 mg
Other Ingredients:
Rice Protein Concentrate, rice syrup solids, Fructose, Natural Flavors, Magnesium Citrate, proprietary Spent Hops powder (Humulus lupulus), partially hydrolyzed guar gum, Dipotassium Phosphate, Olive Oil, Medium Chain Triglycerides, L-Glycine, sodium chloride, Calcium Citrate, potassium citrate, magnesium chloride, silica, Ascorbic Acid, pomegranate extract, prune skin extract, L-Glutamine, Zinc Gluconate, d-alpha tocopheryl acetate, watercress extract, DL-Methionine, L-Lysine HCl, L-threonine, decaffeinated green tea extract, D-Calcium Pantothenate, L-cysteine HCl, Magnesium Sulfate, vitamin A (beta-carotene, retinyl palmitate), Niacinamide, Copper Gluconate, Pyridoxine HCI, thiamin HCl, Riboflavin, Chromium Polynicotinate, Biotin, Folic Acid, Potassium Iodide, Cyanocobalamin, Cholecalciferol.
† Saturated fat content is contributed by a beneficial form of fat, medium chain triglycerides, which have recognized health benefits.
* These statements have not been evaluated by the Food and Drug Administration. These products are not intended to diagnose, treat, cure, or prevent any disease.
Reviews