UltraInflamX® Plus 360 New & Improved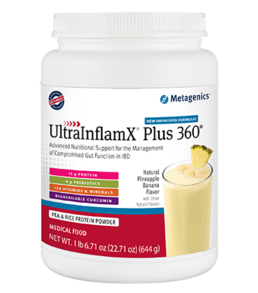 UltraInflamX® Plus 360 New & Improved
UltraInflamX® Plus 360°
Medical Food for Inflammation
UltraInflamX® Plus 360° is a medical food formulated to provide specialized nutritional support—including reduced iso-alpha acids (RIAA, from hops), L-glutamine, and easily digestible rice protein—for patients experiencing inflammation and pain associated with inflammatory bowel disease (IBD), such as Crohn's disease and ulcerative colitis.
• Features selective kinase response modulators (SKRMs) in the form of RIAA, which has been shown to beneficially influence the function of enzymes involved in inflammatory processes.
• RIAA has demonstrated potent antioxidant activity and research suggests that it may help improve overall redox status through influencing inflammation signaling molecules such as NF-KB, COX-2, and PGE2
• Includes ginger and rosemary, which may help support healthy eicosanoid and cytokine metabolism
• Provides turmeric extract, which has been shown in research to inhibit the activities of a wide variety of enzymes, cytokines, eicosanoids, and reactive species implicated in pain and inflammation
• Supplies a low-allergenic potential protein base in the form of rice protein concentrate
Serving Size: 2 scoops (52 g)
Servings Per Container: 14 One serving supplies:
Calories200 Fat6 gSaturated Fat†2.5 gTrans fat0 gCholesterol0 mgSodium40 mgPotassium450 mgCarbohydrate25 gDietary Fiber4 gSugars9 gProtein15 gVitamin A (retinyl palmitate)2500 IUVitamin A (beta-carotene)2500 IUVitamin C180 mgCalcium300 mgIron1.5 mgVitamin D45 IUVitamin E100 IUThiamin2 mgRiboflavin2 mgNiacin35 mgVitamin B65 mgFolic Acid80 mcgVitamin B123 mcgBiotin150 mcgPantothenic Acid5 mgPhosphorus400 mgMagnesium330 mgZinc13 mgCopper1 mgManganese3 mgChromium60 mcgL-Glutamine750 mgL-Threonine34 mgL-Lysine770 mgTurmeric (Curcuma longa) Rhizome Extract210 mg[standardized to 95% (200 mg) curcuminoids]Rosemary (Rosmarinus officinalis) Leaf Extract100 mgD-Limonene100 mgGinger (Zingiber officinale) Root Extract100 mg[standardized to 5% (5 mg) total pungent compounds]Sulfate (as magnesium sulfate)50 mg
Other Ingredients:
Rice Protein Concentrate, Rice Bran, rice syrup solids, Fructose, Magnesium Citrate, Medium Chain Triglycerides, Olive Oil, L-Lysine HCl, Calcium Citrate, Natural Flavors, L-Glutamine, silica, Dipotassium Phosphate, turmeric rhizome extract, Ascorbic Acid, d-alpha Tocopheryl Acetate, magnesium salts of reduced iso-alpha-acids (from hops extract, Humulus lupulus L.), hydrogenated soybean oil encapsulate, Dicalcium Phosphate, D-Limonene, Xanthan Gum, ginger root extract, rosemary leaf extract, Magnesium Sulfate, Guar Gum, Zinc Gluconate, Niacinamide, L-threonine, Copper Gluconate, Pyridoxine HCI, D-Calcium Pantothenate, Niacin, thiamin HCl, Riboflavin, Beta-Carotene, retinyl palmitate, chromium polynicotinate (ChromeMate® GTF), Biotin, Folic Acid, Cyanocobalamin, Cholecalciferol.
† Saturated fat content is contributed by a beneficial form of fat, medium chain triglycerides, which have recognized health benefits.
†† ChromeMate® GTF is a registered trademark of InterHealth, Inc.This product contains no high fructose corn syrup.ORAC value is a measure of antioxidant potential.
* These statements have not been evaluated by the Food and Drug Administration. These products are not intended to diagnose, treat, cure, or prevent any disease.
Reviews