UltraMeal Plus 360 with Stevia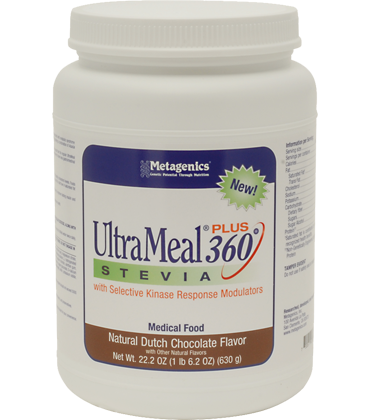 UltraMeal Plus 360 with Stevia
UltraMeal Plus 360 with Stevia
Medical Food
UltraMeal® Plus 360° Stevia is a medical food formulated to provide specialized, multi-mechanistic nutritional support for conditions associated with metabolic syndrome and cardiovascular disease, including hypercholesterolemia, hypertriglyceridemia, and hypertension. It features a unique combination of Acacia nilotica extract, reduced iso-alpha acids (RIAA), plant sterols, and heart-healthy soy protein and isoflavones.
This medical food uses stevia and eyrthritol as low-calorie, natural sweeteners. Eyrthritol has been shown to have less gastrointestinal effects than other sugar alcohols.
Each serving of UltraMeal PLUS 360° Stevia provides:
15 g of non-genetically engineered, identity-preserved soy protein.
2 g of plant sterols per serving. The National Institutes of Health recommends consumption of 2 grams of plant sterols to promote healthy cholesterol levels. Foods containing at least 0.65 g per serving of plant sterol esters, eaten twice a day with meals for a daily total intake of at least 1.3 g as part of a diet low in saturated fat and cholesterol, may reduce the risk of heart disease.
Selective kinase response modulators (SKRMs) in the form of RIAA and Acacia nilotica extract, which have been clinically shown to improve fasting insulin and triglyceride levels.
5-methyl tetrahydrofolate (5-MTHF)—a body-ready, nature-identical folate—to promote healthy homocysteine levels for cardiovascular health.
Low-glycemic-index meal option to help support healthy insulin function and blood sugar levels.
Comprehensive micronutrient profile including B vitamins for patients with metabolic syndrome and cardiovascular disease.
Proprietary formula features selective kinase response modulators (SKRMs)—as RIAA and acacia—clinically shown in a preliminary study at the Metagenics Functional Medicine Research Center® to improve fasting insulin and lipid parameters.
Features a proprietary blend of soy protein and 2 grams of plant sterols per serving in accordance with NIH recommendations.
Provides a heart-healthy meal option with a good source of fiber and essential vitamins and minerals
Two scoops supply:
Calories110Fat3 gSaturated Fat†††1 gTrans Fat0 gCholesterol0 mgSodium (as sodium chloride)290 mgPotassium (as potassium chloride and potassium iodide)500 mgCarbohydrate18 gDietary Fiber4 gSugars1 gSugar Alcohol9 gProtein†15 gVitamin A (as retinyl palmitate)1,750 IUVitamin C (as ascorbic acid)60 mgCalcium (as dicalcium phosphate)600 mgIron (as ferrous fumarate)3 mgVitamin D (as cholecalciferol)40 IUVitamin E (as d-alpha tocopheryl acetate)11 IUThiamin (as thiamin HCl)750 mgRiboflavin850 mgNiacin (as niacinamide)10 mgVitamin B6 (as pyridoxine HCl)25 mgFolate (as folic acid and L-5-methyl tetrahydrofolate††)400 mcgVitamin B12 (as cyanocobalamin)30 mcgBiotin150 mcgPantothenic Acid (as D-calcium pantothenate)5 mgPhosphorus (as dicalcium phosphate)500 mgIodine (as potassium iodide)75 mcgMagnesium (as magnesium citrate)150 mgZinc (as zinc gluconate)9 mgCopper (as copper gluconate)1 mgManganese (as manganese gluconate)0.3 mgChromium (as chromium polynicotinate)100 mcgIsoflavones17 mgPlant Sterols (including beta-sitosterol and other plant sterols)2,000 mg
Other Ingredients:
Soy protein isolate†† (soy), soy protein isolate (soy), erythritol, soy fiber (soy), Dutch processed cocoa, plant sterols (soy), inulin, dicalcium phosphate, natural flavors, olive oil, magnesium citrate, silica, potassium chloride, proprietary blend* of RIAA and Indian gum Arabic tree [magnesium salts of reduced iso-alpha acids (from hops extract, Humulus lupulus L.), hydrogenated soybean oil encapsulate, and Indian gum Arabic tree (Acacia nilotica) bark and heartwood extract], lecithin (soy), sodium chloride, magnesium chloride, xanthan gum, guar gum, ascorbic acid, zinc gluconate, stevia (Stevia rebaudiana), pyridoxine HCl, d-alpha tocopheryl acetate, niacinamide, copper gluconate, D-calcium pantothenate, thiamin HCl, riboflavin, chromium polynicotinate, retinyl palmitate, folic acid, L-5-methyltetrahydrofolate, L-5-methyltetrahydrofolate (as calcium L-mefolinate), biotin, potassium iodide, cyanocobalamin, and cholecalciferol. Contains: soy.
† Non-genetically engineered, identity-preserved soy protein.
†† As Metafolin® U.S. Patent Nos. 5,997,915; 6,254,904.
††† Saturated fat is contributed by olive oil which has recognized health benefits.* Patent pending.** Study conducted at the FMRC, the clinical research arm of Metagenics.
* These statements have not been evaluated by the Food and Drug Administration. These products are not intended to diagnose, treat, cure, or prevent any disease.
Reviews