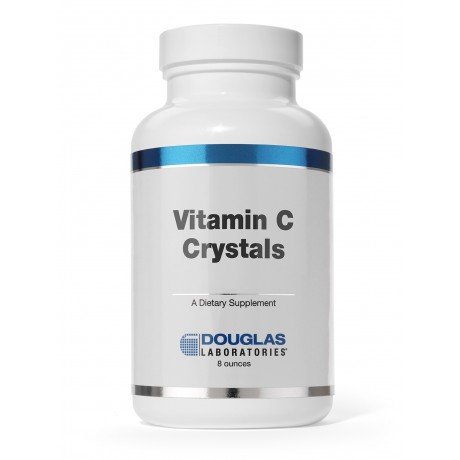 Vitamin C Crystals
INDICATIONS
Vitamin C Crystals may be a useful dietary supplement for those who wish to increase their daily intake of this
important antioxidant vitamin.
FORMULA (#82145)
Each teaspoon contains:
Vitamin C .......................................................................................................... 4,000mg
SUGGESTED USE
Mix ½ to 1 teaspoon in 8 ounces of water or juice or as directed by a healthcare professional.
SIDE EFFECTS
No adverse side effects have been reported.
STORAGE
Store in a cool, dry place, away from direct light. Keep out of reach of children.Vitamin C Crystals
Pure Ascorbic Acid
REFERENCES
Alcaín FJ, Burón MI. Ascorbate on cell growth and differentiation. J Bioenerg Biomembr 1994;26:393-398.
Ballmer PE, Reinhart WH, Jordan P, Bühler E, Moser UK, Gey KF. Depletion of plasma vitamin C but not of
vitamin E in response to cardiac operations. J Thorac Cardiovasc Surg 1994;108:311-320.
Barabás J, Nagy E, Degrell I. Ascorbic acid in cerebrospinal fluid--A possible protection against free radicals in
the brain. Arch Gerontol Geriatr 1995;21:43-48.
Bendich A, Langseth L. The health effects of vitamin C supplementation: A review. J Am Coll Nutr
1995;14:124-136.
Beyer RE. The role of ascorbate in antioxidant protection of biomembranes: Interaction with vitamin E and
coenzyme Q. J Bioenerg Biomembr 1994;26:349-358.
Bielory L, Gandhi R. Asthma and vitamin C. Ann Allergy 1994;73:89-96.
Cathcart RF, III. Vitamin C in the treatment of acquired immune deficiency syndrome (AIDS). Med Hypotheses
1984;14:423-433.
Cunningham JJ, Mearkle PL, Brown RG. Vitamin C: An aldose reductase inhibitor that normalizes erythrocyte
sorbitol in insulin-dependent diabetes mellitus. J Am Coll Nutr 1994;13:344-350.
Eriksson J, Kohvakka A. Magnesium and ascorbic acid supplementation in diabetes mellitus. Ann Nutr Metab
1995;39:217-223.
Faruque MO, Khan MR, Rahman M, Ahmed F. Relationship between smoking and antioxidant nutrient status.
Br J Nutr 1995;73:625-632.
Frei B. Reactive oxygen species and antioxidant vitamins: Mechanisms of action. Am J Med 1994;97 Suppl.
3A:5S-13S.
Gale CR, Martyn CN, Winter PD, Cooper C. Vitamin C and risk of death from stroke and coronary heart
disease in cohort of elderly people. BMJ 1995;310:1563-1566.
Gerster H. Antioxidant vitamins in cataract prevention. Z Ernahrungswiss 1989;28:56-75.
Ghosh SK, Ekpo EB, Shah IU, Girling AJ, Jenkins C, Sinclair AJ. A double-blind, placebo-controlled parallel
trial of vitamin C treatment in elderly patients with hypertension. Gerontology 1994;40:268-272.
Goldenberg H, Schweinzer E. Transport of vitamin C in animal andhuman cells. J Bioenerg Biomembr
1994;26:359-368.
Green MHL, Lowe JE, Waugh APW, Aldridge KE, Cole J, Arlett CF. Effect of diet and vitamin C on DNA strand
breakage in freshly-isolated human white blood cells. Mutat Res DNAging Genet Instability Aging 1994;316:91-
102.
Harakeh S, Jariwalla RJ. Comparative study of the anti-HIV activities of ascorbate and thiol-containing
reducing agents in chronically HIV-infected cells. Am J Clin Nutr 1991;54:1231S-1235S.
Hemilä H, Herman ZS. Vitamin C and the common cold: A retrospective analysis of Chalmers' review. J Am
Coll Nutr 1995;14:116-123.
Hennekens CH. Antioxidant vitamins and cancer. Am J Med 1994;97 Suppl. 3A:2S-4S.
Jariwalla RJ, Harakeh S. Ascorbic Acid and AIDS: Strategic Functions and Therapeutic Possibilities. In:
WATSON RR, ed. Nutrition and AIDS. Boca Raton: CRC Press, Inc. 1994:117-139.
Johnston CS, Yen M-F. Megadose of vitamin C delays insulin response to a glucose challenge in
normoglycemic adults. Am J Clin Nutr 1994;60:735-738.
Khaw K-T, Woodhouse P. Interrelation of vitamin C, infection, haemostatic factors, and cardiovascular
disease. BMJ 1995;310:1559-1563.
Knekt P, Reunanen A, Järvinen R, Seppänen R, Heliövaara M, Aromaa A. Antioxidant vitamin intake and
coronary mortality in a longitudinal population study. Am J Epidemiol 1994;139:1180-1189.
Kodama M, Kodama T. Vitamin C and the genesis of autoimmune disease and allergy. In Vivo 1995;9:231-
238.
Kodama M, Kodama T, Murakami M. Autoimmune disease and allergy are controlled by vitamin C treatment.
In Vivo 1994;8:251-258.Vitamin C Crystals
Pure Ascorbic Acid
Lehr H-A, Frei B, Arfors K-E. Vitamin C prevents cigarette smoke-induced leukocyte aggregation and adhesion
to endothelium in vivo. Proc Natl Acad Sci USA 1994;91:7688-7692.
Mukhopadhyay CK, Chatterjee IB. Free metal ion-independent oxidative damage of collagen. Protection by
ascorbic acid. J Biol Chem 1994;269:30200-30205.
Paolisso G, Balbi V, Volpe C, et al. Metabolic benefits deriving from chronic vitamin C supplementation in aged
non-insulin dependent diabetics. J Am Coll Nutr 1995;14:387-392.
Sauberlich HE. Pharmacology of vitamin C. Annu Rev Nutr 1994;14:371-391.
Seddon JM, Ajani UA, Sperduto RD, et al. Dietary carotenoids, vitamins A, C, and E, and advanced agerelated
macular degeneration. Eye Disease Case-Control Study Group. JAMA 1994;272:1413-1420.
Winkler BS, Orselli SM, Rex TS. The redox couple between glutathione and ascorbic acid: A chemical and
physiological perspective. Free Radic Biol Med 1994;17:333-349.
Yokoyama T, Sasaki H, Giblin FJ, Reddy VN. A physiological level of ascorbate inhibits galactose cataract in
guinea pigs by decreasing polyol accumulation in the lens epithelium: a dehydroascorbate-linked
For more information on Vitamin C Crystals visit douglaslabs.com
† These statements have not been evaluated by the Food and Drug Administration.
This product is not intended to diagnose, treat, cure, or prevent any disease.
Reviews