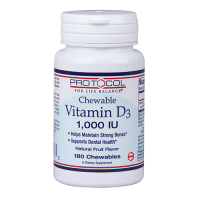 Vitamin D3 1000 Chewable
-Supports Bone and Dental Health*
-Regulates Healthy Immune Function*
-Enhances Calcium Absorption*
How it Works:
Vitamin D enhances the uptake of calcium from the diet, is necessary for bone and dental health, regulates healthy immune activity and supports healthy cell division.* Recent research indicates that Vitamin D also may play an important role in supporting cardiovascular health.*
Suggested Usage:
As a dietary supplement, take 1 softgel daily with a fat containing meal, or as directed by your healthcare practitioner.
Cautions / Interactions:
Although the Upper Limit for Vitamin D is 2,000 IU per day, comprehensive research demonstrates that higher dosages are safe.
However, this product should be taken under the supervision of a healthcare professional. Vitamin D should be used cautiously by those taking cardiac glycosides and anyone with hypercalcemia.

Reviews